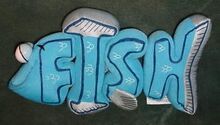 Write the first paragraph of your page here.
Section heading
Edit
Fish is Sheeps pet fish. In Mail mix up When Sheep built a nail instead of a pail Fish inflated. Her only speaking was in Sheeps Halloween costume. Fish also appears as a spooky witch in the episode.
Section heading
Edit
Fish is orange. Fish is female. She has uppercase letters.
Her relatives are:
Ad blocker interference detected!
Wikia is a free-to-use site that makes money from advertising. We have a modified experience for viewers using ad blockers

Wikia is not accessible if you've made further modifications. Remove the custom ad blocker rule(s) and the page will load as expected.