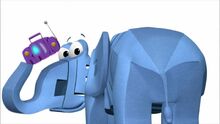 Elephant is one of the supporting characters of this series.
Physical Appearance
Edit
Elephant is blue gray allover. she has a 9 inch long trunk made out of the letter E and her big ears are made out of the letter P. She is an Asian elephant. Her tail is made of the letter T. She is made of uppercase letters.
Her feet are made of the letters P and T
Ad blocker interference detected!
Wikia is a free-to-use site that makes money from advertising. We have a modified experience for viewers using ad blockers

Wikia is not accessible if you've made further modifications. Remove the custom ad blocker rule(s) and the page will load as expected.